Meet Ryan Hawks
Ryan Hawks was a dynamic human being, with a passion and love for the mountains and skiing. He lived a fulfilling life, which was dominated by fun, adventure, and determination. Although he lived only 25 short years, he lived every minute of his life.
Newly published, A Life Well Lived, Ryan Hawks 1985-2011 contains personal stories collected from Ryan's family and closest friends, along with how the Flyin Ryan Hawks Foundation is carrying on Ryan's Core Values Matter message. Contact us to purchase a copy of your own or view a PDF version here!
---
---
From the age of two, Ryan skied the Green Mountains of Vermont. As he grew up, Ryan was quick to add other adventures to his repertoire. An avid mountain biker, climber, lacrosse player, and skier; Ryan was a gifted athlete who was passionate about his core values. He was widely known and admired for his kindness and his unerring capacity to treat everyone he met with even handed warmth that made them feel important. There was no such thing as a problem in Ryan's life; only opportunities for a solution. His never-ending smile would light up the room and make everyone feel better.
As a graduate of the University of Vermont's College of Engineering, Ryan pursued his love of free-skiing as a founding member of the Green Mountain Freeride Team and an admired competitor, he was known as "Flyin Ryan" on the Subaru Freeskiing World Tour. In 2011 during the Kirkwood, CA Tour stop, Ryan sustained injuries from a fall that claimed his life. Ryan will always be remembered for being a true participant in life who lived every minute. The Flyin Ryan Hawks Foundation has been established to extend Ryan's humanness in an effort to enrich the lives of young adventurers and make the world a better place.
Ryan's Core Principles for Living
Not long after his death, the following list was discovered on Ryan's computer. These Core Values reflect the way he lived his life; they were his guiding principles for decision making, relationships and all aspects of his life.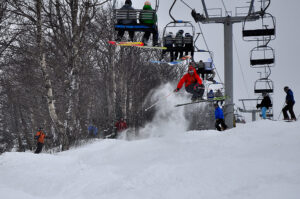 Ryan's Core Values statement provided much of the inspiration that drives the mission of the Flyin Ryan Hawks Foundation to help people discover and enumerate their own core values. These are the values by which he lived:
Live every day, all day
Never stop exploring life
Never lose my adventuresome spirit
Be the best friend I can be
Be the best brother, son, uncle I can be
Play like I am 13
Look out for others
Look out for myself
Look out for our surroundings
Be self-sufficient
Don't be afraid to ask for help
Work hard
Live easy
Live simply
What are the Core Values inside you? Take the Flyin Ryan Core Values Challenge!